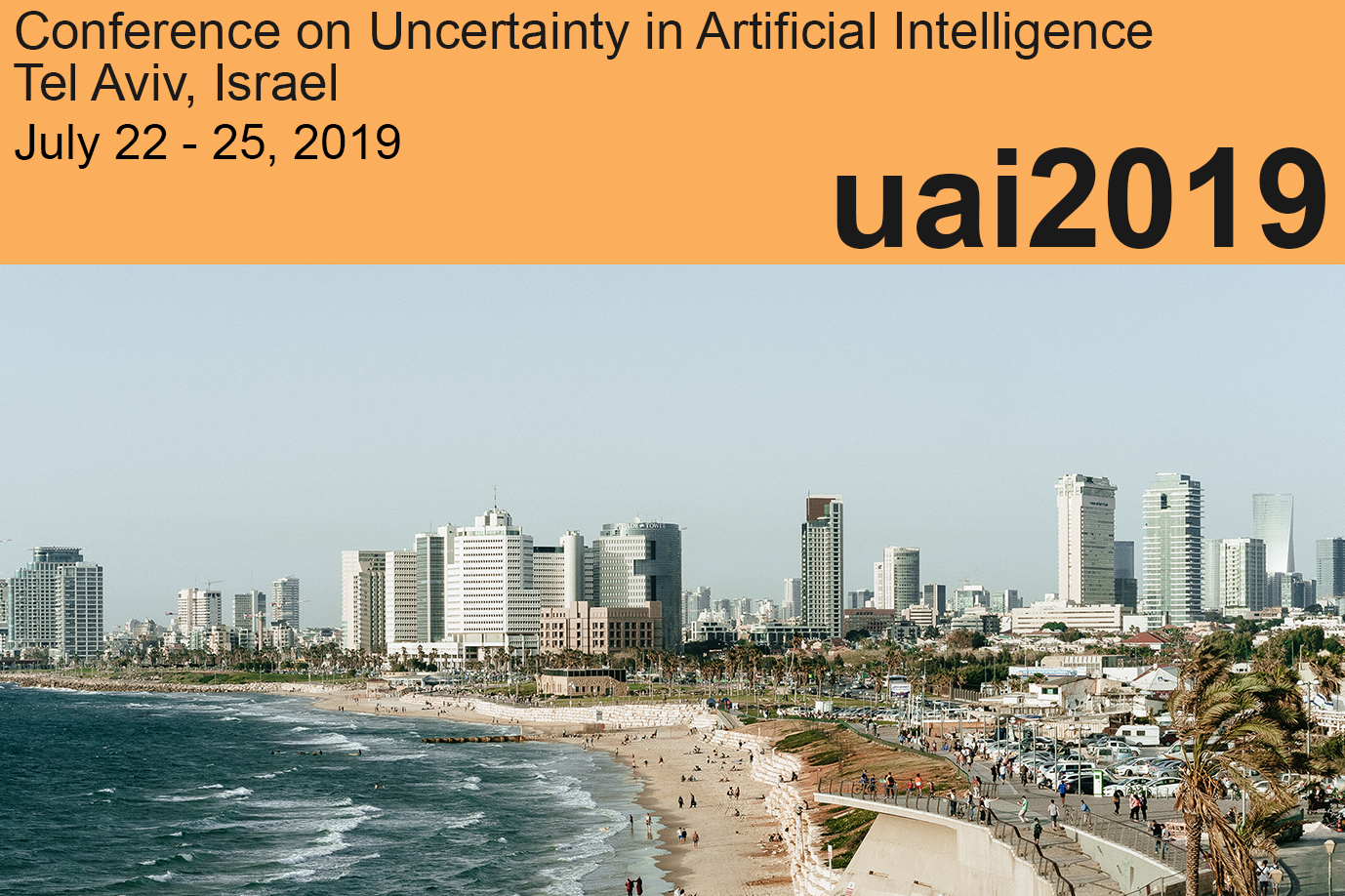 UAI 2019 - Local Information
Thank you for taking part in UAI 2019. This guide is meant to provide information to help you get around the public transportation in Israel and specifically from the airport to Tel-Aviv and around Tel-Aviv.
Public transportation in Israel
Ben Gurion Airport to Tel-Aviv
Getting to the conference venue
Additional information:
Dining (food and drink) options
---
Public transportation in Israel
Israel has two main means of public transportation - buses and trains. Payment is done using Rav-Kav - a reusable contactless stored value smart card for making electronic payments as a joint fare collection system for the different public transportation operators across Israel. Most hotels and hostels provide their guests Rav-Kav which can be charged by them. Rav-Kav can be charged with cash in many kiosks and small shops around the Tel-Aviv. For the train one can also buy a paper ticket in the train station.
In Ben-Gurion airport you can buy a Rav-Kav in Terminal 3, the reception hall. The station works Sunday to Thursday 7am to 11pm, and Friday 7am to 3pm.
Mobile applications
The most widely used Taxi ordering application is Gett - android, ios and Yango - android, ios. There is also a public van service app: Bubble Dan, run by Via - android, ios.

For public transportation information you can use:
Public transportation during the weekend
The weekend in Israel is on Friday and Saturday. Trains and buses do not work on the weekend - from Friday afternoon around 2pm until Saturday night around 8pm. In order to get around during this part of the weekend one can use shared-taxis known as "Sherut" (payment in cash), or taxis either via app or by flagging them on the street.
Bikes and Scooters
Shared electric scooters are very popular in Tel-Aviv, the most widely used companies being Bird - android, ios, Lime - android, ios and WIND - android, ios.

Prices for all the services is the same - 5 NIS to start and half a shekel per minute of riding. In order to use the scooters, payment must be done using a credit card and charges are automatically applied once the ride is complete.

Shared Bike rental - Tel O-fun is shared bike rental service around Tel-Aviv, one can purchase access card from Tel O-fun website using credit card. (17 NIS per day during weekdays and 23 NIS per day during the weekend). Tel O-fun locations are steady. Tel O-fun app - android, ios. Mobike, a station less bike sharing service, is also available around Tel Aviv for 3.9 NIS for half an hour - android, ios.

It is forbidden to ride on the sidewalks. When crossing a crosswalk riders must get off the bike or scooter and cross the pedestrian crossing walking by the bike or scooter. It is strictly prohibited by law to give a ride to another person on an electric scooter, to talk on the phone while riding and to have earphones on both ears. All those may result financial fine ranging from 250 NIS to 1000 NIS.
---
Ben Gurion Airport to Tel-Aviv
Using the train
There is a train station inside the airport. From 5am to 10pm there are trains to Tel-Aviv every half an hour. There are 4 train stations in Tel-Aviv - Tel-Aviv Hahagna, Tel-Aviv Hashalom, Tel-Aviv Savidor center, Tel-Aviv University. Depending on your hotel's location you will probably need an additional connection using bus or taxi - buses 104 and 204 will take you from Tel-Aviv Hahagana station near the conference venue. Travel duration is 20-30 minute in the train and additional 20 minutes in the bus.

Israel Airport Authority public transportation guide.
Using taxi
Licensed taxi stands are located along the sidewalk on the ground floor level at the Gate 03 exit and on level 2 at the gate 21 exit. There are reduced-rate for taxis on level 2 outside Terminal 3, to destinations included in a predefined price list, including Tel-Aviv. The price depends on the time of day, whether it is the weekend, and the number of suitcases. During day hours, the price for one passenger with one suitcase to Tel-Aviv is 40-45$. Note that many taxis will only accept cash payment in NIS.

Taxi fare calculator.
---
Getting to the conference venue
The conference is held at the
Carlton Hotel
, Eliezer Peri St 10, Tel-Aviv-Yafo, Israel.
Closest bus stations to the conference venue are:
Hayrkon \ Arlozorov - 55
Ben Yehuda \ Ben Gurion - 4, 13, 104, 170, 204, 222,256, 296, 299, 463, 466, 489, 502, 555, 556, 566, 599
---
Wifi
Network: Carlton b-zone
User: guest
Password: 1234
Press pre-paid card to login
---
Poster printing
If you wish to print in Tel-Aviv, you can print at
i-print
, which is located at Ben Yehuda St 186, Tel Aviv-Yafo (
Google Maps link
).
The cost should be around 70 NIS. Note that the work week in Israel is Sunday-Thursday, with some places working a half-day on Friday morning.