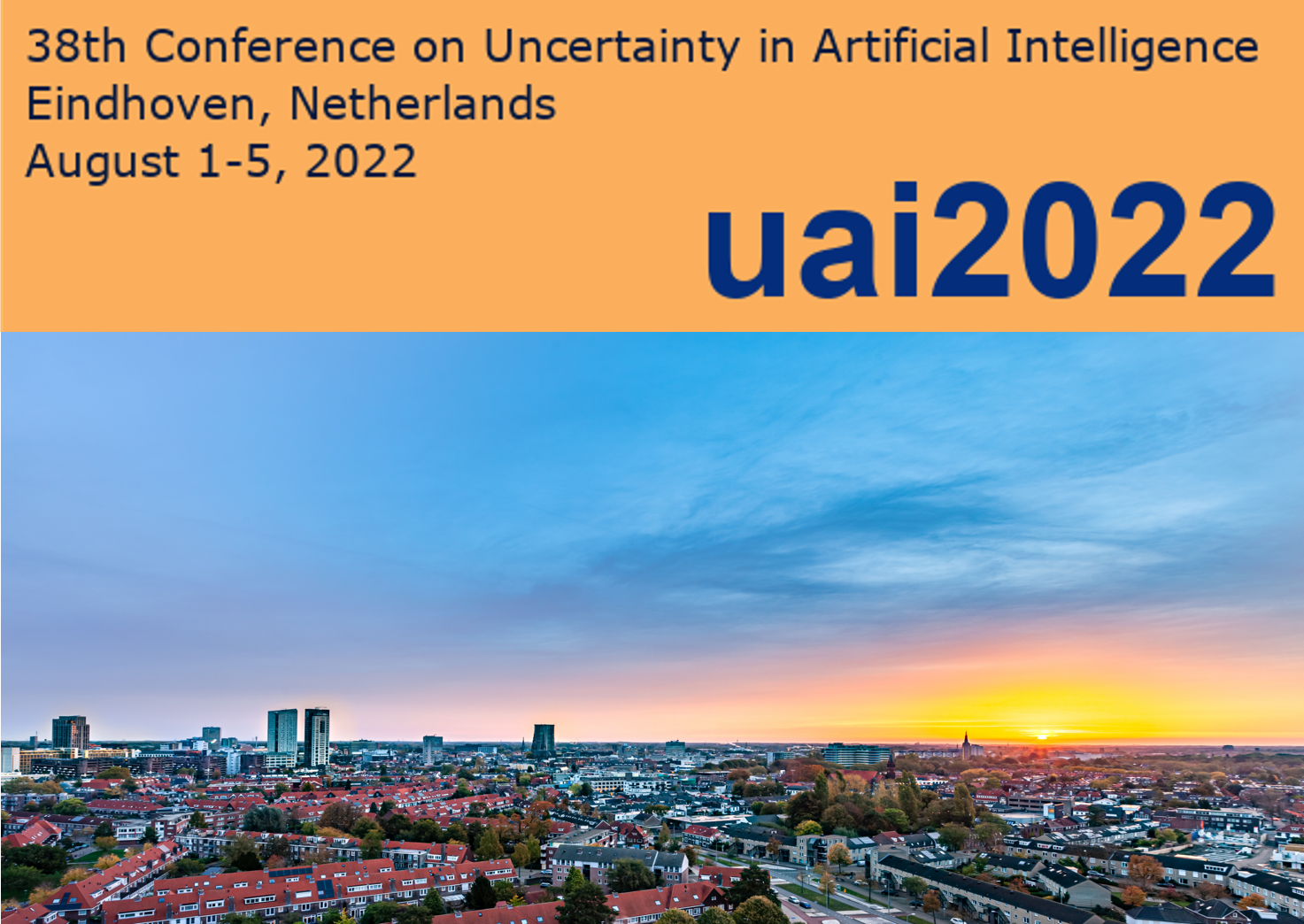 UAI 2022 - Program
A downloadable PDF version of the program is available here. The online components of the conference can be accessed here.
UAI 2022 is a hybrid conference, meaning that all talks can be followed in-person in Eindhoven and also online. Posters are presented in a mixed manner: in physical poster sessions, in virtual poster sessions, or both.
All physical sessions of the main conference take place in the Auditorium Building (see campus map). The tutorials and workshops are in Rooms 4 - 6, and the main conference is in the "Blauwe Zaal".
The online components of the conference take place in Zoom Events. Please note that this requires you to log in, using the same email address that you used for your UAI 2022 registration. From within Zoom Events, you can access the online talks and also get to the virtual poster sessions in gather.town.
You can access the detailed schedule of each day using the following links:
Please note that all dates and times are UTC+2 (Central European Time).
1 AUG (Tutorial Day)
1 Aug - 09:00-10:00
Auditorium Room 4: Risk-Averse Reinforcement Learning: Algorithms and Meta-Algorithms
Auditorium Room 5: Verification Techniques for Probabilistic Systems and Programs
1 Aug - 10:00-10:30 - Coffee break
1 Aug - 10:30-12:00
Auditorium Room 4: Risk-Averse Reinforcement Learning: Algorithms and Meta-Algorithms
Auditorium Room 5: Verification Techniques for Probabilistic Systems and Programs
1 Aug - 12:00-13:30 - Lunch (on your own)
1 Aug - 13:30-15:30
Auditorium Room 4: Double Machine Learning: Causal Inference based on ML
Auditorium Room 5: Graphical Models Meet Temporal Point Processes
1 Aug - 15:30-16:00 - Coffee break
1 Aug - 16:00-18:00
Auditorium Room 4: Causality and Deep Learning: Synergies, Challenges & Opportunities for Research
Auditorium Room 5: Quantifying Predictive Uncertainty Without Distributional Assumptions Via Conformal Prediction
1 Aug - 18:00-19:00 - Opening reception